"Just because you're working out, doesn't mean it's working."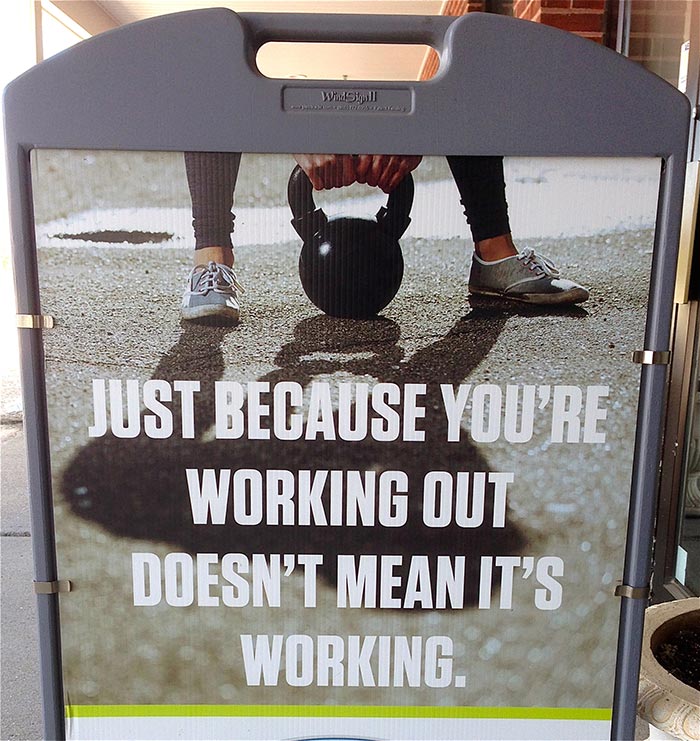 I recently saw this sign in front of a fitness studio and realized how true that statement is, not just for staying physically fit, but in many aspects of life.  As someone who appreciates the value of staying in shape and being physically fit, this sign made me realize how many people just go through the motions of "working out" at the gym without bothering to measure the results of their investment of time and money in the process.  If you're serious about getting in shape – and staying there – it requires setting goals and measuring the results constantly to see how you're doing.
The same can be said for evaluating your company's or community's website in terms of the value it has in your overall marketing program.  A website is the focal point of any sales and marketing campaign in today's internet focused business world.  To ensure that the investment (and I use that word deliberately) you make in developing and maintaining your website is producing the ROI you want to help you achieve your sales goals, requires continuous monitoring and optimizing to be most effective in our constantly evolving Internet age.
Four Ways to Measure the Effectiveness of Your Website
Focusing on just one of the following ways to measure your website without looking at the overall picture would be like using a dumbbell to strengthen your biceps and let that be your entire fitness workout.  You may get stronger biceps, but in the end, what kind of shape is the rest of your body in?
1.

Design
Easy Navigation

Can the website visitor easily find information on your website, view photo galleries and read copy clearly?  I've heard many people say if you can't find the floor plans on a home builder's website within two clicks, the website is not user friendly.

Responsive Design

If your website does not automatically adjust to the device the viewer is using (e.g. desktop, laptop, tablet, smart phone) you will not only aggravate them as they are forced to pan and zoom around your pages trying to find information, you are seriously affecting your organic search listings.  Google announced on April 21, 2016 that any website that is not mobile friendly will be ranked lower on its listings when a user is searching from a mobile device, something no one can afford to do in today's competitive marketplace.

Emotional Connection

Do the visuals and content of your site connect with the user and grab their attention making them interested in what you are offering? Rather than listing features, connect with your potential customers with the benefits you can provide and problems you can solve for them.
2.

Content

How frequently do you add new content to your website (photos, copy, blogs, etc.)?  Are they current? Do the headlines and subheads support the visuals? Are the photos professional, eye-catching and memorable?  Do they portray your products or services in the best possible light?

Google is always monitoring websites to determine when there is new meaningful content that is specific to the subject matter of your website. Key words and phrases can be very helpful in boosting your visibility in Google's eyes as long as it's not done artificially – a practice that used to work a few years ago, but is actually counterproductive now.

Creating a keyword strategy and working these keywords and phrases properly into the headings, content and meta-data of the appropriate pages can greatly increase your search visibility and traffic to your site.
3.

Tracking Results

Do you track the results of your website activity consistently to determine the quality of traffic visiting your website?
Visitors

Number of total visits vs. unique visits – while total visits might be the more impressive number, it's the number of unique visits that reflects how many individuals viewed your website in a given time period.

Average Time on Site

In some industries, anything over two minutes is considered respectable, the longer the time period presumably indicating the higher level of interest.  Having one or more well produced and engaging videos on your website can have dramatic results on how long people are on your website.  Since so much of residential real estate marketing involves an emotional decision by the buyer to move, regardless of his or her age, marital status, etc., professionally produced videos with compelling messages can have an enormous impact on the effectiveness of your website visitors' experience.

At Southport in Mashpee, MA, a national award winning active adult community – we are using videos including homeowner testimonials, media personalities in TV ads and aerial tours shot by drones to show the beauty of the community (you can view examples of this in the Southport Case Study). It's no surprise that when tracking most viewed pages and average time on the website, these videos have played a significant role in generating high quality leads at the Sales Center.

Number of Pages Viewed

Again, the average number of pages viewed per visit is one level of measuring interest on your website, but digging deeper can provide even more meaningful information.

Most Viewed Pages

Studying these metrics can provide good insight into what topics on your website are of greatest interest to your visitors, not just in terms of which pages are viewed the most, but the amount of time people are spending on those most viewed pages.

Conversions

Is your website set up to track conversions (e.g. requests for a tour of your community, requests for brochures or a DVD, newsletter signups, etc.).  One of the ways to encourage the most conversions is to have appropriate calls to action on specific pages of your website, based on the content of that page.  Determine which calls to action generate the most meaningful, qualified prospects and decide if they should be used on additional page on your website.

You can go even further with this and track all phone call conversions with inexpensive software like CallRail. This gives you the ability to have a rotating pool of numbers so each visitor gets their own number while viewing your website and if they pick up the phone and "convert" you know where they came from. This means you can tell which online marketing efforts are performing the best (social media, Google Adwords, organic search, referring sites, etc.), which ones need extra effort and which ones to optimize budgets on to produce the most leads. You can also use it to track all offline marketing efforts like direct mail, radio & television ads, print ads, etc.
4.

Email Marketing

One of the most cost-effective ways to reach your database is through email blasts. Assuming you purge your database consistently to ensure the quality of your leads, and that you provide informative content that will interest your prospects, a well designed email blast with valuable content can be a great way to convert prospects to buyers.
Purpose

What's the primary purpose of your blast?  To generate foot traffic to your sales center or store?  Attend an event?  Respond to a limited time offer? Is this blast part of a well-planned long-range sequence of blasts to build your company's or community's brand or awareness?  A one-time blast is like doing a series of reps in the gym without any follow-up.  It might feel good for a day or two, but unless you continue to follow a planned workout routine, your results will be disappointing.

Content

Does the design of your email blast complement the look of your website?  If it does, it can help to reinforce your visual image in a prospect's mind and provide a professional, polished look.  Use visuals and subheads strategically so the viewer is encouraged to read all of the blast. As you can see to the right, tying the look and design of your website all the way through your email marketing like we did for Boston Biomedical Associates (more can be seen on the Boston Biomedical Case Study) can really enhance your brand and make it memorable.

Subject Line

Does it get the viewer's attention and generate interest for them to open the blast and, more importantly, click through to your website for further information?

Tracking

Does your email marketing software (e.g. MailChimp) provide you with valuable information such as the individual email addresses of those recipients who clicked through to your website after reading the blast?  This can be an effective way for your sales team to follow up with their prospects, assuming that the prospects' clicking through to your website (and the number of times each individual did this) reflects a higher level of interest in your message, product or service.
Conclusion
Following these four guidelines – Design – Content – Tracking Results – Internet Marketing – will strengthen the effectiveness of your website and Internet marketing campaigns in much the same way that working with a professional trainer at a fitness studio will help to ensure you stay on track with your workout regimen so you achieve your personal fitness goals.   If you do, your investment of time and money will also produce results that help you compete in business, regardless of your product or service.
For more information on how Carlson Communications can help you achieve your sales and marketing goals, contact us at 508-393-9922 or fill out our contact form with any questions!